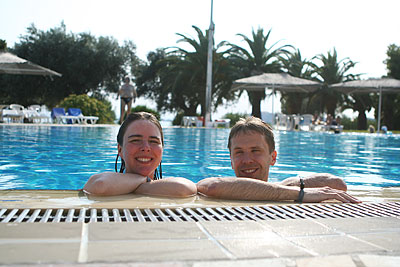 Tangocamp is not just about tango 100 percent of the time , there is plenty of time to just enjoy the great surroundings. The surroundings in Greece mostly consists of pool areas.
Up at Eretria village there is a large area of shallow pools, a two minute walk from Holidays in Evia there is a deeper salt water pool and then, of course there is the sea!
You have plenty of choices where you can take a bath. I personally recommend that you swim in salt water pool around 19 when the temperature has come down a little bit and you don't have to worry too much about being burned by the sun.
What is your favorite place and time to take a bath at Tangocamp in Greece?
Please comment
.